Written By: Louis James Diaz Google+
.
Users of Globe Wireless Broadband Plan 512 Kbps would have noticed the sudden increase on their own Globe Wireless Broadband Internet, specially to those users who are using the ZTE MF600 modem. I have had numerous readers and visitors who happen to stumble on my post regarding Globe Wireless Broadband Selective Browsing and the turtle like speed that Globe Wireless Broadband users mostly experience.
But yesterday I was surprised when this blog and a couple of other sites that I have been visiting were loading somewhat extremely fast. Faster than the average speed my Globe Wireless Broadband gives me. So what I did was to check my internet speed at Speedtest.net and to my surprise, I got a whopping 1.9 Mbps of speed! That is almost 4x the speed allotted on the plan that I am currently subscribed for which is 512 Kbps.
Just to make sure, I checked on different servers on different locations, and did a reset on my modem to get a different IP Address, but the speed did remain. Here are the results of the speed that I got from speedtest.net
Korean Server Speedtest Result (Take note of the Date and Time)
—
Hong Kong Server Speedtest Result (Take note of the Date and Time)
—
Japan Server Speedtest Result (Take note of the Date and Time)
.
I was even able to download a 20mb file in under 2 minutes! Look at my download speed, its on the 100+ kbps mark, wherein it always used to be around 40+ kbps when downloading.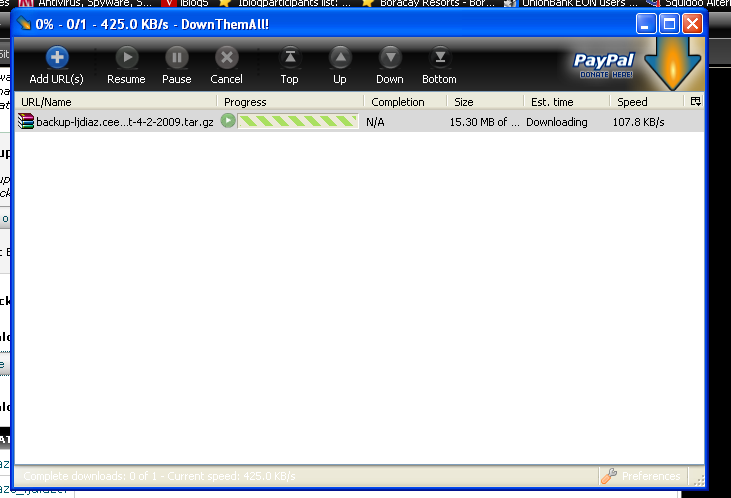 Isn't it great!? Finally! I just hope that this kind of signal that I am getting would stay the same no matter what IP address I use. A note though that these are just based on my own results, these Globe Wireless Broadband Internet Speed Test may or may not apply to everyone since we all know that Globe Wireless Broadband is dependent on your location and the strength of the signal on your place. If you want to know if the same speed is also occuring in your Globe Wireless internet connection then go to Speedtest.net and check it out for yourselves.
A personal note though, try to check out more than one server and if you can try to speed check it outside the country to be able to get the average speed that you want.
But ironically though, I tried to call Globe at 919-8000 and was expecting that the advisory that they have on their answering machine would be gone, but to no avail. Even if I have excess amounts of speed in my Globe Wireless Broadband connection the advisory on their hotline are still up, meaning to say, they just slapped it on there to be able to prompt problematic users that were calling them that there are some system maintenance going on with their internet connection.
So, have you checked it out? As for me, I love the speed that Globe Wireless Broadband is giving me right now, I'm really paying less for what I have bargained for.
So what's the speed of your Globe Wireless Broadband as of now?